Brink's Box
A new addition to the Brink's Complete family: The Brink's Box allows you to secure and optimise your in-store cash management and ensure the safety of your employees at all times.
Contact a Brink's expert
Simplify how you handle your cash
Thanks to its compact and intelligent design, Brink's Box slots in easily into your business premises, allowing your employees to make fast, traceable and secure deposits, day or night, in just a few minutes.
Take advantage of this smart tool that gives you a clearer overview of your cash flow.
Brink's Box accounts for and verifies your cash, tracks your deposits and withdrawals, and works for you while you deal with your most demanding peak periods.
Benefits
No investment required, simplified management, and improved cash flow
Protect your cash
Your money is secure and cannot be accessed after being deposited in the Brink's Box.
Simplify your day-to-day tasks
Save time by getting rid of time-consuming admin jobs.
Optimise your cash flow
Your deposits are tracked in real time and your account is credited daily.
A solution for everyone
Brink's Box helps:
The distribution sector
Les restaurants
Small shops
Functions
An "All Inclusive" service
Includes
Rental, installation, configuration, training and ongoing support.
Daily credit
Your money is available in your account the day after it is deposited in your Brink's Box.
Maintenance & troubleshooting
You benefit from maintenance of the hardware, updates and customer service.
Secure cash management
Collection of funds, counting and sorting of cash, verification of data, and transfer to your bank account.
Insurance & Warranty
Omnium equipment warranty and insurance for deposited funds.
The Brink's Box solution
Make secure deposits in minutes
1
Prepare your deposit
Enter the amount on the Brink's Box app 24/7
Put the money in a Brink's Deposit Bag
2
Log the bag
Scan the deposit bag on Brink's Box app
Place the bag in the Brink's Box
3
Easy access to your funds
Receive your daily credit the next day (subject to the bank's agreement) and check the status of your funds at any time
Features
A fully integrated technological innovation designed for depositing banknotes and coins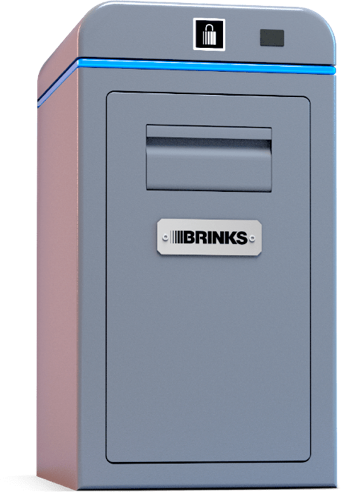 1

LCD screen/Reset button

Provides system status and push option to reset device.
2

QR code reader

Scans the QR code on the Brink's bags and authenticates access.
3

LED light

Blue: Standby mode
Green: Deposit received
Yellow: Attention required
Red: Fault
4

Deposit slot

Receives approved Brink's bags, with a capacity of up to 40 sachets.
5

Opening/Closing

Keyless smart lock.